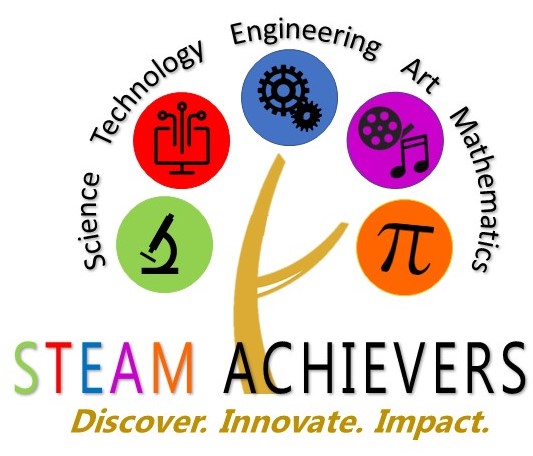 STEAM Achievers Featured on WFAA News:
"Making a Mark, Creating Leaders of Tomorrow"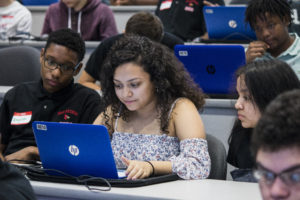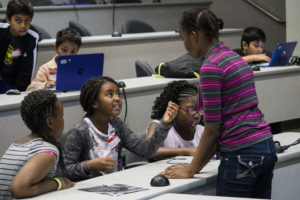 Scholars from more than 19 schools in numerous Independent School Districts, Charter School Districts and Private Schools Give Back their Time and Talent by Designing Video Games for Children with Autism on October 14, 2017 in honor of National Disability Awareness Month. They were mentored in their different auditoriums by professionals from S.T.E.A.M. organizations and higher education including Microsoft, AT&T, Verizon, Alliance of Technology and Women, University of Texas at Dallas (UTD), UT Southwestern (UTSW), University of North Texas (UNT) to name a few
Scholars present the video games they designed for children with autism before judges and fellow peers from numerous DFW schools
Picture Gallery: Highlights from 2017 Fall STEAM Achievers Purpose Hackathon at UTD
Kids and Youth Giving Back: Designing Video Games for Children with Autism
OUR MOTTO: DISCOVER. INNOVATE. IMPACT.
                                          DISCOVERY
Discover, hands on, the joys of learning science, technology, engineering, art and mathematics (S.T.E.A.M.), the pathways that lead to careers in these fields and more. Through our Signature STEAM Achievers Mentorship Programs, we provide much-needed mentorship from professionals in S.T.E.A.M. careers including doctors, pharmacists, engineers, software developers, computer science professors, architects, banking and finance executives. Our goal is to put the dots so close together, that scholars can visualize a career in S.T.E.A.M. while enjoying the exploration of what it would take to become a professional in these fields.
                                              INNOVATION
By teaching mastery in computer science concepts, critical thinking, problem solving, team building skills, demonstrating how technology works with science, engineering, art and mathematics, promoting an environment that allows for creativity and innovation and more, we prove to scholars that they have what it takes to thrive in S.T.E.A.M. in school and beyond.
 IMPACT Real Social Impact & Strategic Mentorship:
Youth Give Back, Solve Real Community Issues in Real Time, with Mentorship from S.T.E.A.M. Industry Executives and Professionals
S.T.E.A.M. Achievers care deeply about the world around them and use their talent and acquired skills to make a difference in their own community. S.T.E.A.M. Achievers will be eligible to team up and give back by participating in the Biannual S.T.E.A.M. Achievers Purpose Hackathons (pH) as kid developers, testers or project managers and in the process learn about the Software Development Life Cycle (SDLC) used by most technology companies such as Verizon, Microsoft, IBM, Amazon and many others.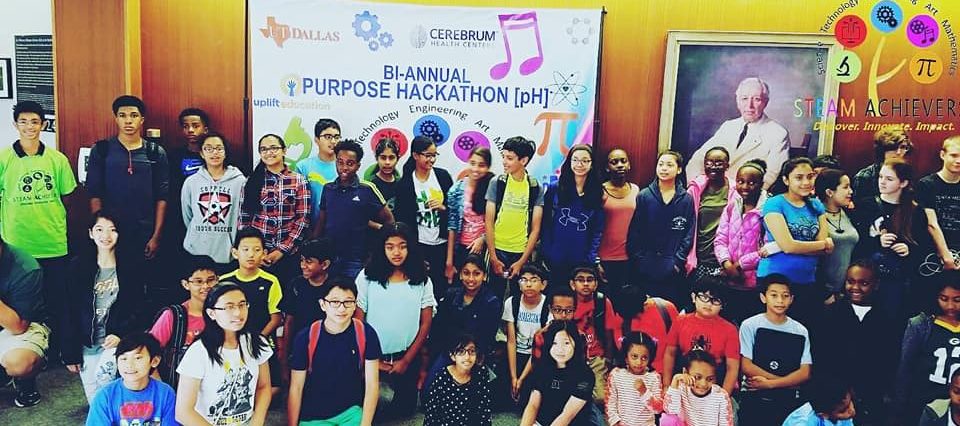 A Red Carpet Welcome: Scholars pose for a photo at the Spring STEAM Achievers Purpose Hackathon on May 13th, 2017 at University of Texas at Dallas (UTD)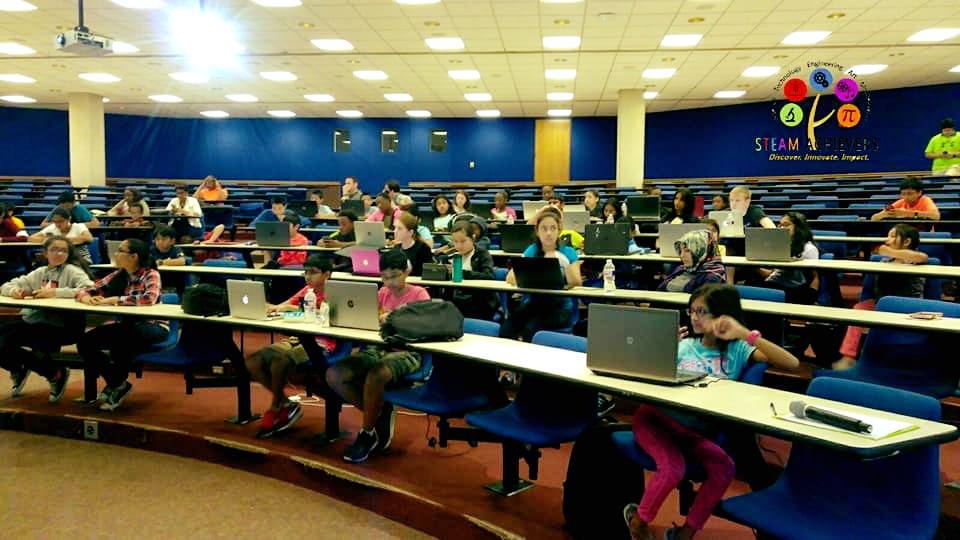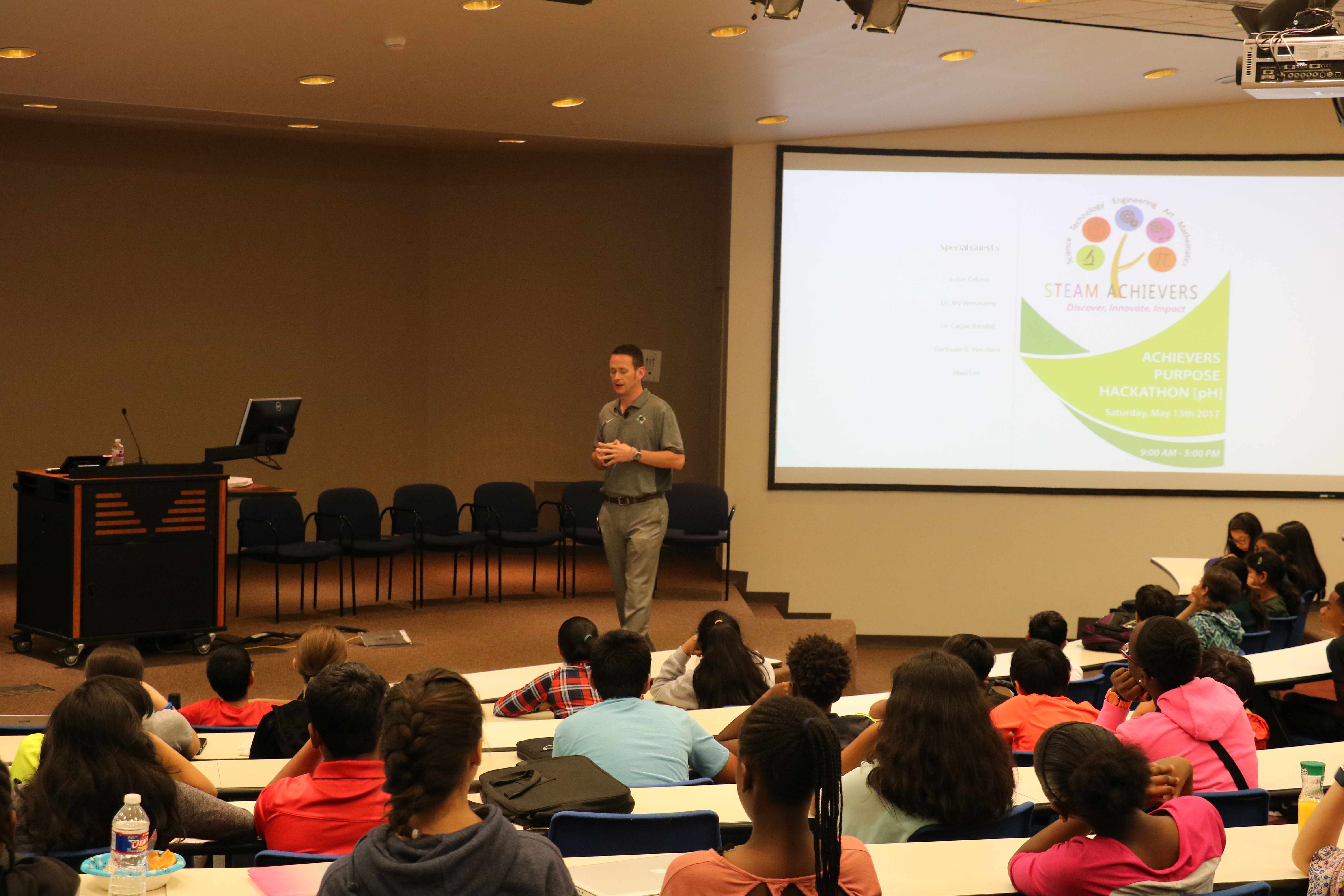 Scholars from numerous Independent School Districts, private and charter schools discuss autism and receive mentorship in neurology from Dr. Cagan Randall of Cerebrum Health Centers
Dr. Jey Veerasamy, Director of  Center for Computer Science Education & Outreach and Sr. Lecturer at the Department of Computer Science, the Erik Jonsson School of Engineering & Computer Science at University of Texas at Dallas (UTD), provides practical insights on technology careers and receives video game challenges from scholars 3rd through 12th grade
UPCOMING EVENTS:
*April is Autism Awareness Month*
DFW KIDS AND YOUTH WILL BE GIVING BACK BY
DESIGNING VIDEO GAMES FOR CHILDREN WITH AUTISM AT THE SPRING STEAM ACHIEVERS PURPOSE HACKATHON
Date: Saturday April 27, 2019
Where: University of Texas at Dallas (UTD)

 Benefiting children from University of North Texas Kristin Farmer Autism Center, among other organizations serving children within the Autism Spectrum and other disabilities
https://autism.unt.edu/

When: Saturday, April 27, 2019
Where: University of Texas at Dallas (UTD), Naveen Jindal Bldng
Free parking: In "GREEN PARKING" Spaces on Campus Map
Address: 800 W Campbell Rd, Richardson, TX 75080
Overview
This will be an exciting and positive competition between scholars from numerous Independent School Districts (ISDs) held at University of Texas at Dallas (UTD), where

scholars will be designing video games for children with Autism

!
All-day mentorship will be provided by professionals in medicine, technology and higher education
Prizes, certificates and recognition from University of North Texas (UNT), University of Texas at Dallas (UTD) and executives from organizations in STEAM fields including IBM, Microsoft, Alliance of Technology and Women, among others, will be presented
A fee of $20 per participant
Breakfast and lunch provided
Special Instructions
Bring a laptop. A laptop is strongly recommended but not required for participation. Scholars will work in teams.
Registration
Group Registrations