Social Impact in Action
Corporate Partnership Opportunities
Securing your Talent Pipeline: STEAM Achievers post-secondary alumni, college graduates, and scholars want to know what you REALLY do at your company, and what actual steps they need to take today, to work at your company tomorrow!
A New Approach to Talent Acquisition & Social Impact
It is almost scary to imagine that current 12th graders will probably be submitting resumes for employment at your company in only 1 year, 4 years, if they go to college, which we trust they will. This idea should not be scary at all if we are doing what we must, to consistently engage, inform and get them excited about what your organization stands for, the required skills they need to acquire, business etiquette, the Emotional Intelligence, professional presentations, resume preparation and just as important… your company culture.
What a Partnership with STEAM Achievers Could do for your Company
We help organizations build a diverse and skilled talent pipeline that aligns with your company's Diversity, Equity and Inclusion (DE&I) goals, while at the same time, making a social impact.
We provide unique opportunities to make a lasting impression on our post-secondary alumni, college students, graduates and high school scholars. We partner with you in providing relevant industry training and certifications, simple sustainable mentorship programs, impactful workshops and tours within your organization – virtually or in person.
We know that companies are now faced with a new millennial workforce that wants to do more than a job. They want to be a part of something bigger and to make a meaningful difference in their community. We partner with you to give them a taste of your corporate culture, help you expand your social responsibility platform and open their minds to the real possibility that your company would be a great fit for their professional goals.

We work with you to design exciting, rewarding,

easy-to-execute

and sustainable employee engagement and volunteer programs that impact the communities where your employees live and work and help

advance the initiatives your organization is most passionate about!
Corporate Career-Focused Mentorship
These are opportunities that can be aligned with our existing program framework.
Mentorship commitment is customized for the busy professional, allowing for sustainable engagement.
You can opt for powerful yet simple 30-minute mentorship sessions or weekly interactive presentations virtually or at one of our program locations.
Career Field Trips
Learning experiences through field trips within your organization.
STEAM Achievers' core objective is to get kids and youth excited about science, technology, engineering, art and math.
Our goal is to put the dots so close together that they can visualize a career in STEAM.
With that in mind, we are intentional about providing scholars with strategic opportunities for exposure into a variety of careers and helping them understand what it would take to become a professional in the field.
The opportunity to have STEAM Achievers scholars visit your organization to get a better understanding of real world businesses and operations would be a welcome addition to our programs, and, greatly appreciated.
Corporate Workshops
 Learning experiences through STEAM-focused or career-focused workshops.
STEAM pathways and careers can be wide in their scope. Whether your expertise is in medicine, engineering, human resources, manufacturing, social media platforms, farming, building enterprise data warehouses, banking, designing a fighter jet, baking, or any other, we welcome your partnership in providing hands-on workshops and projects for our scholars in your field.
Volunteer Support, Sponsored Training & Certification 
For more information on partnership opportunities, directions on how to sign up, volunteer registration links, or if you would like to participate in any of our summer and after school programs, email: [email protected].

Sponsor Deserving Scholars in our Upcoming Events & Training Programs S.T.E.A.M. Achievers HackAutism, Powered by Microsoft
February 4th, 2023
Coming in Fall 2023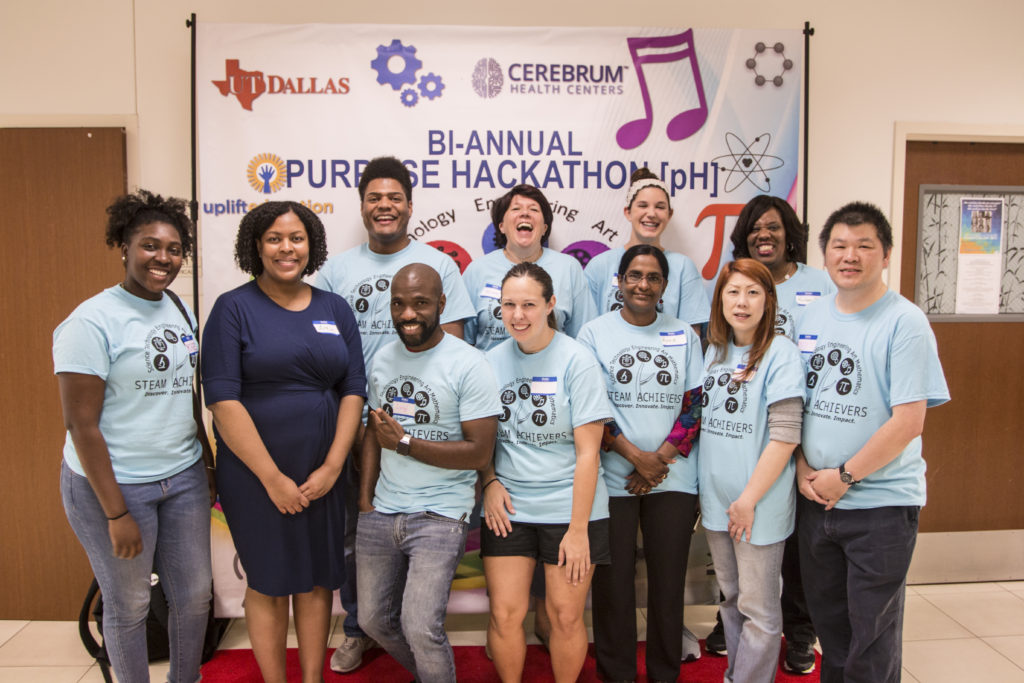 S.T.E.A.M. Achievers HackAutism Hackathon
October 28, 2023 
New this Year: Fun, Mentorship & Impact with Company-Led Teams!
*Date Subject to Change
Join Fellow Executives, Engineers, Doctors, Developers, Nurses, Project Managers and DFW Young Adults, Youth & Scholars to Discover, Innovate & Impact Autism
This Media-Acclaimed Purpose Hackathon will be a friendly Competition between Company-Led Teams and 3-12th Grade Scholars, Youth and Young Adults from different ISDs, Charter & Private Schools and Organizations. Scholars & Actual Professionals will Team up, Learn together & use Acquired Skills to Design Video Games using up to 5 Programming Languages including Java, JavaScript, Python, Alice, Scratch.

No technology experience necessary.
Now Accepting 2023 Volunteer Applications
Social Media marketing
Fundraising
Web development
Database development (Data Collection, Analytics & Reporting)
Graphics Design
Application development
Video Game Design
Cyber security
Project Management
Hubspot Specialists
Partnership development (local, corporate, state) and donor engagement
Media outreach
Sponsor outreach
Grant research & grant writing
Volunteer coordination
Logistics
S.T.E.A.M. and Non-S.T.E.A.M. Mentorship (Spots open for professionals in careers unrelated to science, technology, engineering, art and mathematics)
*High school volunteers will participate in mentorship and logistics under the guidance of the STEAM Achievers team. You may bring your volunteer forms to receive signatures & credit for your service.
To receive volunteer registration instructions, email: [email protected]
Now Accepting 2023 Internship Applications! 
Year-round internship opportunities and volunteer hours are available for college and high school students.
High school students receive volunteer hours towards the Texas Education Association (TEA) Community Service Hours requirements for graduation.
Community service opportunities available for Girl Scouts & Boy Scout troops. Limited opportunities available.
To request an Application for Internship, email: [email protected]
Customized Community Engagement Opportunities
We have a wide variety of ways in which your company can get involved in STEAM Achievers Programs which are impacting children and youth around Dallas Fort Worth. We are extremely honored to have received requests for customized volunteer opportunities for teams from large fortune 500 companies, desiring to make a social impact along with us.
Whether you are a small or large organization, we would love to hear from you and welcome your partnership and assistance in providing unique, STEAM-focused, hands on experiences and mentorship for scholars in your field of expertise. Limited Spots. Available on a first-come first-served basis
Contact Us
For more information on sponsorship and partnership opportunities, how to sign up, group and volunteer registration, or participation in any of our workshops, summer, after school programs, please email: [email protected].
STEAM Achievers is a Signature Program of S.N.A.C. Educational Services, a Nonprofit 501 (c) (3) Organization
8951 Cypress Waters Ste 160, Irving TX 75019