February 2019


STEAM Achievers Named among 20 Organizations Nationally, Engaging Kids with Autism in S.T.E.A.M
While our understanding of what it means to have autism spectrum disorder (ASD) continues to grow, many people with autism still have a hard time navigating their communities. As a result, some kids with ASD have a hard time in school, and might even reject the learning environment entirely because it doesn't accommodate their needs.
There are organizations looking to change that. When kids with ASD in engage in STEAM concepts on their terms, they can discover a love of learning that stays with them for years. A love of STEAM can also encourage autistic children and teens to continue their education when they might have otherwise given up.
Check out these 20 organizations helping kids with ASD build an interest in STEAM concepts while growing their social skills.
The Children's Museum of New Hampshire
On the first Sunday of every month during the school year, The Children's Museum of New Hampshire hosts Exploring Our Way throughout the morning. The museum is closed until noon and only open to kids with ASD and their parents. This gives those children a safe place to explore in a less overwhelming environment. Parents can network and form support connections. The museum has special programs for the Exploring Our Way days with a view to promoting social skills and a love of STEAM.
Taking Autism to the Sky
Founded in 2012, Taking Autism to the Sky (TATTS) uses drones to create videos with and for kids with ASD. The organization was crowdfunded through Kickstarter and has continued to grow each year. Their 2018 summer programs were held in Madison, Wisconsin, and TATTS continues to work closely with the community to help others better understand what people with ASD see, while helping those with ASD gain perspective on new ways to view the world.
STEAM Achievers
The goal of STEAM Achievers is to bridge the learning gap in tech for students with diverse backgrounds. Along with trying to reach both boys and girls from various communities, STEAM Achievers designs tools, games, and events around tech-lovers with ASD. In April 2019, for Autism Awareness Month, the organization is hosting a hackathon for teens to develop video games that are ASD-friendly.
April 2018 
2018 Women in Technology Awards Honorees & Winners Announced
For the 5th annual Women in Technology Awards, the Dallas Business Journal will honor 26 leaders that are making a difference through technology at their workplaces.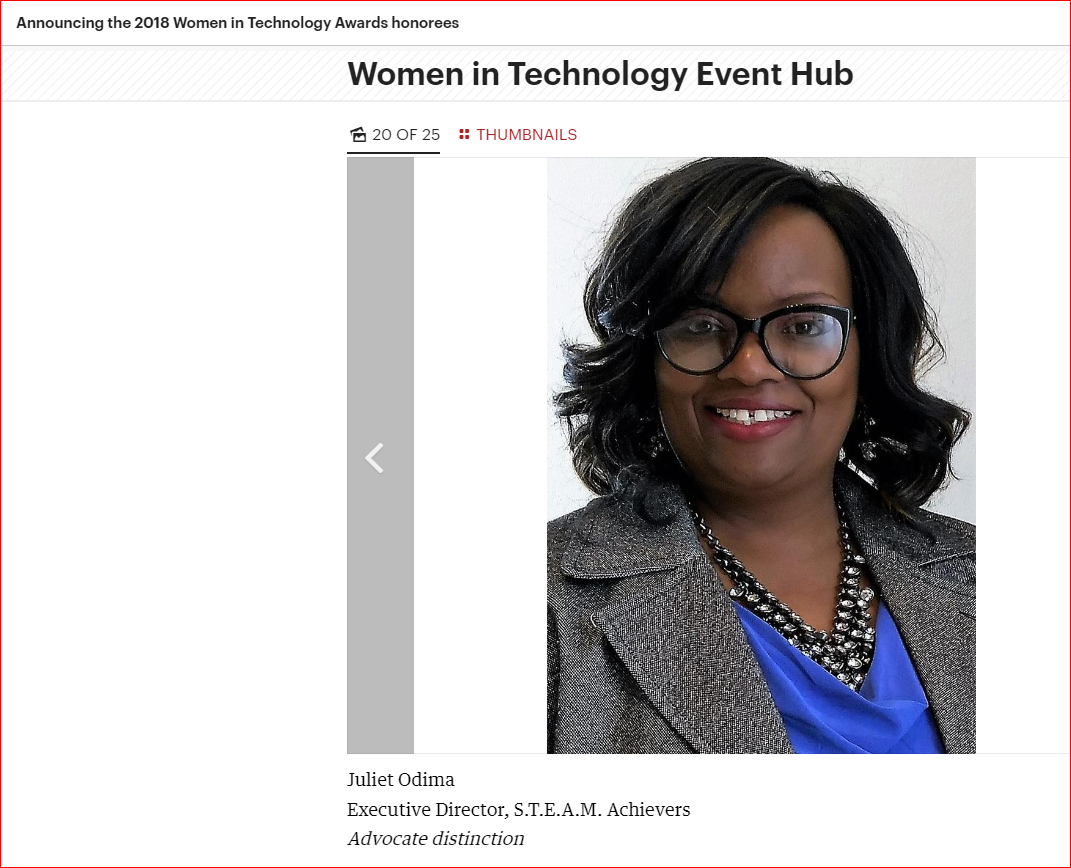 Applied sciences, bioengineering, FXO IT financials – these women mastermind ways to keep their companies and organizations current and compliant while pushing for innovation that is efficient and intelligent.
Three women within the 2018 Women in Technology class will receive the distinction of "Advocate." Robyn Brown of Bold Idea, Juliet Odima of S.T.E.A.M. Achievers, and Janell Straach of The University of Texas at Dallas have led with missional intent to advocate for technology fields, ensuring that future generations, and especially women, have access to tools and support required to succeed.
These 26 honorees hail from large public entities, like Kimberly-Clark Corporation and FedEx, to smart upstarts that meet a need, like ShearShare, Inc., spanning across an array of industries vital to North Texas. The challenges presented in these vastly different companies are met equally by diverse leadership styles and unique approaches to problem-solving.
You will have the chance to learn more about the 2018 Women in Technology Awards class at an afternoon reception on May 22 at the Westin Galleria. The awards event will feature President of Reliant and NRG Retail Elizabeth Killinger as a special guest in a fireside chat. Click here to learn more about ticketing and details around the event.
May 2017

"Leaders of Tomorrow Making a Mark Today"

STEAM Achievers Scholars from Uplift North Hills Preparatory and STEAM Achievers Purpose Hackathons (pH) Featured on WFAA ABC News on May 5, 2017
October 2017


Students Create Video Games for Autistic Children
Students learned to create video games for a good cause during the 2017 STEAM (Science, Technology, Engineering, Art and Math) Achievers Bi-Annual Purpose Hackathon presented Saturday, Oct. 14 at the University of Texas at Dallas in Richardson.
More than 120 third through twelfth graders from Irving ISD, Uplift Education Charter schools, and other area schools came together to learn to design, code, and create video games specifically for children with autism. Dr. Kevin Callahan from the UNT Kristen Farmer Autism Center spoke with the students, educating them about autism and how it affects children. Afterward, the kids divided into groups and used one of three programming languages to create a game to help educate and rehabilitate children with autism.
The games covered a wide array of topics autistic children sometimes struggle with, from identifying colors, to creating empathy, to teaching math and history. Nahin Hayat, Carson Miller, and Ryan Jo, a team of juniors from MacArthur High School, created a game called 'Red Must Go,' which asks the player to mark all the red circles on a field of red, blue and green circles. Hayat explained the game was designed to help kids with autism improve their color and shape recognition. He already has plans for an expansion.
"We know it's very difficult for [people with autism] to recognize facial expressions," Hayat said. "So later on in different updates, we could actually change the circles to different facial expressions. We could say, 'Mark all the faces that have smiley faces.'"
Miller added the task seemed daunting at first, but by the end, the team was proud of what they created.
"At first we were a little skeptical," Miller said. "We thought it would be very difficult. But as we went along, as the mentors were helping us, we realized it's actually pretty fun. It feels good to create a product that can actually help other people."
Cynthia Lopez, a sophomore at MacArthur High School, created an app with her team that would help children with autism and their loved ones identify their emotions. For Lopez, the project took on a more personal meaning, because her young cousin has autism.
"[My cousin is] eight years old, and he just loves playing games," Lopez said. "That's really the only thing he's interested in. Why not make a game where they learn at the same time they're being entertained?"
Lopez enjoyed working on the game not just for her cousin's benefit, but for herself as well.
"It's really exciting because normally, it's not something I would see myself doing because of my age," Lopez said. "But then again, knowing I'm young and I can have an impact on someone young like me, that's really gratifying.
The first Purpose Hackathon was held earlier this year, and participation in the event has nearly doubled since then. Juliet Odima, executive program manager for S.T.E.A.M. Achievers, explained the program uses video games because they are something every child can identify with and enjoy.
"It's one thing to tell a third-grader, 'Oh it's so much fun giving back and helping other people,'' Odima said. "But it's another thing to find something they're really passionate about. Looking across the board, I don't know of a kid who doesn't enjoy video games."
Odima said the event is not only teaching kids how to program and code, but is also connecting them to real-world S.T.E.A.M. professionals and possibly laying the groundwork for a future career.
"The beautiful thing about this event is we're surrounding the kids with mentors from science, technology, engineering, art and math throughout the development process," Odima said. "[The kids] get to hear their stories. I was walking around watching the mentors and I heard them telling their story of how they made it into Microsoft and UT Southwestern. We want to put the dots so close together that they can start to visualize and hopefully plan for a career in STEAM."
One lesson the kids were taught during the Purpose Hacakthon was they can make a real difference in their community.
"[We're] using what they already know, adding some more knowledge, and empowering them, pulling at their heartstrings and helping them understand not everyone is like you and I," [Odima] said. "There are children who struggle with learning, there are children who are not able to do some of the things we're able to do. We're helping them understand the need and seeing how they can be a part of the solution. They might not be able to find a cure for autism right now, but they can help a kid have a happy time and learn something from a game they designed."